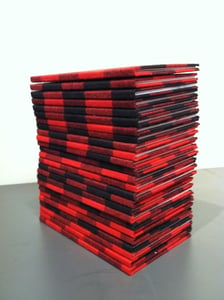 $

15.00
Waiting for October, hand-bound by Lindsey Clark-Ryan as red buffalo-plaid flannel-covered casebound hardcovers.
For the regular, non-limited edition of Waiting for October, click here.
2 Petes.
3 seasons.
5 specials.
26 shorts.
34 episodes.
One perfect show.
2 editors.
32 writers and artists.
52 pages of art, words, and comics.
One spectacular love letter to the best television of all time.
Waiting for October: A Tribute to The Adventures of Pete & Pete is a 52-page, 5.5"x8.5", black-and-white anthology zine with a full-color cover and centerfold. (Or it would be if it were the normal edition - this one's a little fancier.)
Featuring works by:
Joe Quinones (Star Wars, Wednesday Comics)
Sara Benincasa (Agorafabulous!)
Christopher Hastings (The Adventures of Dr. McNinja)
Jen Van Meter (Hopeless Savages)
Benito Cereno (Tales from the Bully Pulpit, The Tick)
Ashley Davis (Once Upon a Pixel)
Kory Bing (Skin Deep)
and many, many more!